Epson today announced the SureColor P5370 professional photo printer, a 10-ink, high-volume printer with a maximum print width of 17 inches. When it ships early next year, the P5370 will replace the SureColor P5000, which has been the keystone of Epson's 17-inch pro printer line for years.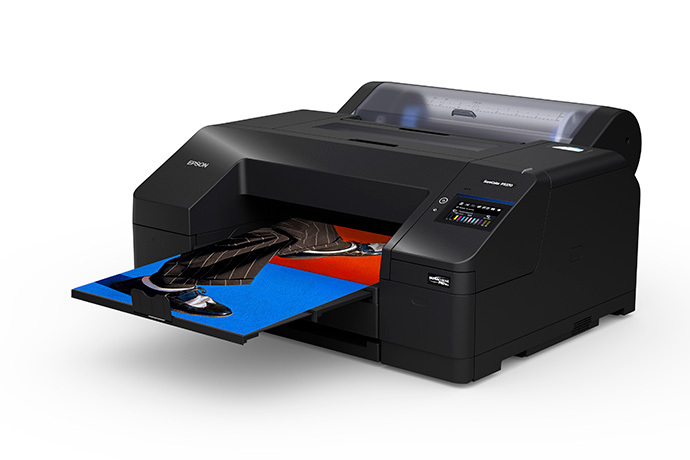 The P5370 uses the same UltraChrome PRO10 inkset found in the SureColor P900 and P700 models (see review): 10 inks (9 printing), with separate channels for Matte and Photo Black inks. The ink cartridges are a whopping 200ml in size.
The printer has a 100-sheet front-feed paper cassette; a built-in roll feeder (for 2- and 3-inch roll cores) with an automatic cutter; a top-loading, single-sheet manual feed path; and a front-loading, straight-through paper path for media up to 1.5mm thick. It has a 4.3-inch touchscreen LCD, Gigabit Ethernet, USB 3.0, and both 2.4GHz and 5GHz WiFi.
Yes, the P5370 shares the excellent, long-lasting P700/P900 inkset, and offers similar — but slightly better — connectivity options and a (bigger) touchscreen LCD, but make no mistake: this is a tool for professionals looking to create finished gallery work, portfolios, and short-run photo projects. For those groups, the P5370 should be a revelatory workhorse.
To say that this printer has been overdue is an understatement. The P5000 was a fantastic high-volume printer, serving both the photo community and publishers in the print industry (with slightly different inksets for each group), but it suffered slightly as a photographer's tool, with the single black ink channel that necessitated switching when you wished to change between Matte and Photo Black inks. We've also been waiting for the release of the PRO10 inkset at this level in the market. As good as the SureColor P900 is as a fine-art photo printer, it lacks the durability and sturdiness of the SureColor 4800/4900/5000 line, and the we expect that the P5370 will be similarly constructed.
Epson expects to ship the SureColor P5370 in January, 2024. The printer will be $2,095; pricing for the ink cartridges wasn't available at press time. I, for one, can't wait to get my hands on one.
Press release reproduced below. Epson also has a very handy Sales Reference Guide (PDF) to the SureColor P5370, which includes more detail and comparison with the P5000 and the P900.
---
Epson Introduces SureColor P5370 17-Inch Professional Photographic Printer
Replacing SureColor P5000, New Printer Delivers Creativity Without Compromise
LOS ALAMITOS, Calif. — Empowering photographers to produce the finest exhibition quality prints, Epson has introduced the new 17-inch SureColor P5370 professional printer designed to meet the demanding needs of professional and production photographic markets. Incorporating technological breakthroughs and enhanced reliability to produce prints as the artist intended, the new printer has an improved printhead, new ink set with an extended color gamut in dark blue hues, plus an advanced print engine for productivity, including sheet and roll capability. The SureColor P5370 is being debuted and shown at the Palm Springs Photo Festival.
Vincent Versace, a recognized pioneer in the art and science of digital photography noted, "When I have a large volume of prints to make and time and reliability is of the essence, the SureColor P5370 is my go-to printer for meeting deadlines while maintaining the highest photographic print quality."
Touting a refined design, the SureColor P5370 combines an improved advanced MicroPiezo AMC printhead with Epson Precision Dot Screening Technology to consistently produce prints with smooth tonal renditions and capability to reproduce the details captured with today's high-resolution cameras. Featuring a new 10-color UltraChrome PRO10 ink set in high-capacity 200 mL cartridges, including Violet Ink, the printer delivers an extended range of blue hues and a wider color gamut. With dedicated channels for Photo and Matte Black inks, there's no ink switching, helping to save time and reduce ink waste. The printer's built-in Carbon Black Mode increases Dmax, allowing for rich blacks and exceptional contrast on glossy paper.
Offering flexibility and increased productivity, the printer includes a built-in roll feeder, auto cutter and a high-capacity cassette that accommodates up to 100 cut sheets from 8.5″ x 11″ to 17″ x 22." In addition, to further support today's workflows that leverage both Epson and third-party media, the SureColor P5370 includes Epson Media Installer, a software application designed to help control parameters for successful printing with a variety of media, including thick fine art papers.
"Listening to market needs and incorporating customer feedback, we integrated the latest printhead and ink technologies that are optimized for photography into this new printer so professional photographers can maximize productivity, reliability and consistently produce the finest exhibition-quality prints," said Marc Aguilera, product manager, Epson America, Inc. "Designed to meet demanding needs, the SureColor P5370 is an evolution to the beloved SureColor P5000, adding improved reliability, deeper black density and wider color gamut in blue hues.
Additional SureColor P5370 features include:
Intuitive operation — a new large 4.3-inch color LCD touchscreen and interface allows for easy setup, control and maintenance
Expanded connectivity — Ethernet, USB and, now included, WiFi connectivity
Advanced software support for enhanced productivity — includes Epson Cloud Solution PORT2 for fleet management and Epson Print Layout software for simple print production
Availability
The SureColor P5370 will be available in Q1 2024 through Epson Authorized Professional Imaging Resellers for an estimated MSRP of $2,095. For additional information, visit http://www.epson.com/p5370.